Oh hey, WIAW.  It's been too long.  The last one I did was in May? I can't believe I used to do this every week.  Anyway, this (yesterday) was not a typical day in the life.  I was in the city running some errands and going to a few appointments, and traveling light.  So I bought most of my food – which makes for a delicious day, but means that I was spending much more on food than necessary.  But, it happens now and then.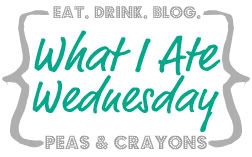 (Oh and all pictures taken by my Galaxy S3.  I'll explain at the end. food first!)
First breakfast (no picture): at home, 1/4 cup iced coffee – the last of the batch, small nectarine, homemade PB granola bar.
Second breakfast!!! (bonus points if you know that reference): almond butter bliss acai bowl at Juice Generation.  I've professed my undying love for JG before, and my feelings stand strong. Worth the $$.
a real iced coffee at Roasting Plant. With a side of twitter & emails & website work.  I love roasting plant – you get to watch coffee beans fly through the air!  Also worth the $$. Fun fact – I very nearly got a job there last summer.  But then I got a better cafe job.
Lunch! Chipotle!  Veggie bowl loaded with guac – probably the cheapest thing you can get at Chipotle.  See that mound of lettuce? It's mostly guacamole.
cool-down snack.  Wasn't super hungry, but wanted to munch on something to cool down.  Bites of watermelon to the rescue.
Appeteaser – horseradish hummus, carrot sticks,
and smeared on rice cakes.  I was in the mood for crunchy.  Eaten while preparing my real dinner.
Dinner – everything in a bowl! Chicken apple sausage, fennel, mushrooms in coconut oil and a bit of black pepper.  Simple, sweet & savory, delicious.
To balance it out (gotta have my carbs!) – quesadilla (dutch goat cheese and hot sauce).  Don't knock it.
And of course, dessert.  My favorite extra dark chocolate from TJs.
A few bites of frozen mango,
and a spoonful of almond butter (!!!).  I haven't been able to get TJ's almond butter for ages, and one of the employees finally clued me in on how to snag a jar.  Hint: call the night before and put one on hold.  Brilliant.
Now that I look at it, the damage wasn't too terrible.  I've definitely spent more in a day.  But, aside from my bank account hating me, it seems that technology is not on my side lately.  First my computer, now my beloved canon camera!  (whoa, link to first post)
it seems perfectly normal, but…
this is what I get when I take a picture.
Some kind of processor error.  I'm going to attempt to get Canon to repair this for me, hopefully this isn't the end for my trusty little camera.   Thank goodness for smart phone cameras, right?
What's your Chipotle order?
Do you take most of your pictures with smart phone or camera?