Wow, I can't even remember the last time I did a traditional, What I Ate Wednesday post.  By traditional I mean one that actually track a full day of meals and snacks as opposed to just a compilation of things I've been eating.  For some reason, I was just in the mood to take pictures of (almost) everything I ate yesterday.
Tuesdays are my busiest days in terms of classes, so lunches and snacks are always packed. This is a pretty typical tuesday for this semester as far as eats go.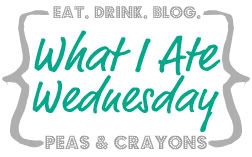 Toast with PB & cinnamon, papaya chunks.  Eaten way too fast, because the idiot that I am woke up at 7:35 and for some reason thought it was 8:35 and that I only had 40ish minutes to get ready for school. (I like to take my time in the morning, and usually like to get up around 8am for my 9:30 class.  I know, not that early compared to most of you crazies out there, but I am NOT a morning person.  I've tried.
Anyway, I scarfed down this breakfast even though I wan't super hungry because I thought I needed to get moving in time to get to class.  Then I sat down to check the weather before getting dressed and realized that it was indeed 8am, and not 9am.  And I had an hour to kill.  Hardly an ideal start to the day.  At least I had time to slowly sip my giant jar of water!
On the way to class, I got myself a large iced coffee with soy milk to try and perk up for the day.  Coffee was delicious, but I think I was still half asleep. Nearly all day.
Snacks, eaten in class sometime between 11am and 12:30.  I could have probably eaten lunch then based on how hungry I was, but I don't have a break between classes then, and I have a dance class (yes, dance with a fractured foot. try to figure that one out. hint: it involves chairs).  So energy-dense snacks it is.  P.S. That quest bar very nearly tastes like cookie dough. I don't usually go for dairy-based processed snacks, but these are just too delicious, and somehow take care of my constant cookie cravings.
It was also my last week of dance class, so the teacher brought in some goodies for us to share.  I munched on some wasabi peas, yogurt raisins, cashews, and banana chips.  But I didn't want to spoil my appetite for the delicious lunch I had packed!
Collard wraps and more papaya for lunch, eaten around 3pm, after dance.  Collard wraps are probably my absolute favorite ways to pack tons of veggies into my lunch and make it super portable.
all packed up in my Eco Lunchbox.  Love this thing!
In the wraps – tempeh, avocado, peppers, horseradish hummus, parsley, and BBQ sauce.  Hey, I never claimed to be normal.  Delicious.
I was slightly hungry before my Physics society meeting, so I grabbed some veggies and hummus (no photo).  I probably have a veg & hummus appetizer nearly every evening, because I often get too hungry before I realize I need to make dinner.
I was in the mood for a pick me up and a bite of chocolate, so I also grabbed a handful of cacao nibs before heading back out for my meeting.
Often, I'd just eat dinner at the meeting as there is always food provided, but the group ordered fajitas last night, and I just wasn't feeling it.  Yes, it's free food, but was just not at all appealing to me for some reason.  So, home for dinner after the meeting it was.
This is called "I desperately need to go shopping" dinner.  Trader Joe's Italian style sausage-less sausage (a.k.a. soysage) cooked in coconut oil with mushrooms and broccoli.  I was going to make some rice or something to go with, but again didn't really feel like it. And I'm (very) lazy.
Dessert!  I know I need to cut down on the after-dinner snacking (when I'm not really exercising especially).  I'm still working on being satisfied with a meal and not needing a little something sweet after, but this is the start of a high-stress time, and I'm not testing my will power now.  So I settle for a little natural sweetness – the last of the papaya.
and a few spoonfuls of peanut butter.  This happens way too often, but oh well.  It was delicious.
So there you have it, the ridiculous story of my day through food.  Which I didn't intend this post to be, but apparently the blogging gods thought otherwise.
Are you a morning person? Do you eat breakfast before class/work?
Do you feel the need to have something sweet after dinner? How do you limit after -dinner snacking?