Hi, I'm dead.  Mentally drained.  It's dull and gray, and I just had my last final (!!!) this morning – which mentally killed me.  It was mostly memorization, and I blanked on a whole lot of it.  I'm trying to look on the bright side, but the best I've got is that I'm officially done with spring semester.  Ah well.
I did most of my studying yesterday at home, in my common room and room, but did go to campus for just a few hours for a change of scenery.  So I was busy, but I spent my break time staying sane & healthy. Here's What I Ate (Tuesday)!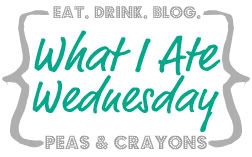 Breakfast:
I went for a super early run (7.15 – hey, i'm still in college) with my running buddy, so I didn't need to eat anything in the morning.  I had a bedtime snack the night before, but we just did an easy 3 miles.
Smoothie for breakfast!  I've pretty much been having one every day.  It's just so easy to wake up, sip some coffee and snack on a banana, prep my smoothie, workout, then just come home, blend, and drink!  This is my favorite combo at the moment:
Chocolate Raspberry Green Smoothie: 1/2 medium banana, 1 scoop vanilla protein powder, ~1/2 cup (maybe more) frozen raspberries, handful of spinach, soy milk to blend.
Snack:
I went grocery shopping right after breakfast & shower, so by the time I got home I was ridiculously hungry!  Snacked on some crackers and homemade hummus before making a proper lunch.  And just because I know i'll get the question – no, I'm not eating gluten free.  I picked up these crackers because they were from a local bakery(!), and on sale (only 1 day old, I checked) – pretty tasty though, you probably wouldn't know they were gluten free.
Lunch?
I put a question mark there because I have no idea what I was thinking with this lunch.  For the life of me I couldn't think of a real meal to put together, so I went with a snack plate.  It definitely helped that I had just bought groceries and had ample things to choose from.  Veggies, soysage(vegan tofu sausage), goat cheese, mustard for dipping, and sweet potato with tahini and cinnamon.  Surprisingly satisfying.
Snack:
I got hungrier earlier than I thought, so I grabbed a Nak'd bar and banana at a shop at the university campus.  But didn't take a picture.
Dinner:
Mmm salad.  Are you surprised? One big reason I love salads for dinner is that so often I can't be bothered to cook a real meal.  And when I'm not craving warm food, I see no reason to.  I love my salads!  In the mix: red pepper, avocado, broccoli, cilantro, sunflower sprouts, avocado, hemp seeds. All chopped, tossed in a dressing mix of hummus and taco sauce on top of a bed of spinach.  With more crackers.  Happy tummy.
Dessert:
And dark chocolate, X2 today.  Plus some nighttime tea.
What's your favorite salad combo?
Have you ever tried tofu sausage? I was surprised, these are organic, don't have a ton of additives, and really good!