Balance.  It's damn hard, no matter what it pertains to!  Standing on one foot, eating right, exercising right, knowing when to stop working and relax a bit, and just finding that middle ground between not enough and too much.
That's basically the underlying reason I started this blog.  Yes, I said it was to share my foodie adventures, but little did I know I had a long way to go to a truly 'healthy' lifestyle.  And the truth is I still have a way to go.  But I can happily say that I have come quite far since last year.  At least now I know how to get there.
An important part of this balance is knowing how to eat and live healthy, but not too healthy where you feel deprived.  So, for this What I Ate Wednesday, the focus is on balance.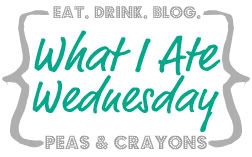 Let's check it out:
Pre-Workout
Iced coffee with soy milk and banana.  Carbs and a bit of caffeine for energy and endurance, protein (from the milk) for power.  Light, but enough to get me through a moderate-intensity circuit workout.
Post-Workout (Breakfast):
Giant green smoothie.  I drank some before I snapped the photo, oops.  1 serving protein powder for muscle recovery, 1/2 banana, kiwi, strawberries for sweetness and energy, spinach and spiraling for a nutritional boost, and a  mix of water and soy milk to blend.
I was really hungry before lunch, so I grabbed a small plum to hold me over while I put something together.
Lunch:
Smörgås/tartine with gravlax (cured salmon) and goat cheese for protein, on dark rye for whole grains & carbs, plus a couple of handfuls of chopped veggies and hummus.
Snack:
(recycled photo)  Replaced the little sesame cookies with 1 square of 81% dark chocolate and that was my snack.  Fiber, carbs, protein, and a little treat.  Filling and satisfying, but not too much.
Dinner:
I bet you couldn't have guessed this one – zucchini noodles!  Yes, it's one of my favorite (high raw!) meals, and I plan to do a post just highlighting zucchini noodles. But, in this bowl went – zucchini, chopped red pepper, fresh parsley, crushed tomatoes ($ saver) for veg, added basil tofu and a bit of quinoa for protein, plus avocado for healthy fat.  And flavor.  Sprinkled with a bit of cayenne for kick!
Dessert/night-time snack:
I always get hungry at night right before bed.  So I try to kill the hunger beast about an hour or more before I plan to sleep.  I almost always go for something sweet.  This was a mix of frozen raspberries, about 1/4 cup yogurt (Alpro soya natural!), 1 tsp of nut butter – all mashed up so it almost had a froyo consistency.  I can imagine these ingredients make a delicious soft-serve treat all blended up! Light, and kept my night-time hunger at bay.
So there you have it – a balanced day.  This was a pure study-day (no classes) when I had time to prep and make food.  Yes, I still have many days when I am too busy or lazy to make a real meal and things get out of whack.  But I know that all it takes is preparation, and I'm working on it.
What is one of your favorite satisfying, filling, *balanced* meals?
How do you define balance when it comes to health?