I had a really good day yesterday – for no real reason.  Well, it could have been runner's high from the fantastic run I had that morning.  Or the gorgeous Swedish sun.  Doesn't matter – I'll take a smiley day any day.
I also managed to get just about *all* my eats captured on camera yesterday as well!  So, another 'real' what I ate Wednesday for you, brought to you by Jenn.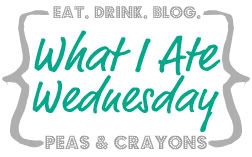 Pre-run
Iced coffee with soy milk and 1/2 banana.  And lots of water.  I can eat this about 45 minutes before a run, and have no stomach issues during.
The plan was for a speedy 3 miles – but look what happened!  Actually I picked a trail I didn't know, and it took me further than I had intended.  It was a gorgeous sunny day and I was feeling good and strong – so it didn't matter.
Breakfast
Green smoothie refuel!  Protein powder, the other half of the banana, the last of the strawberries (sad day), frozen spinach, water, and a bit of soy yogurt.  Strawberry banana yum!
Lunch
I was feeling good with the eats as well.  Smörgås (swedish word for open sandwich, traditionally on this rye bread) and salad!  Sandwich had hummus, avocado mash, spices and hard-boiled egg.  Devoured.  Salad had mâche lettuce, cucumber, tomato, sprouts, and mint-lime dressing.
Plus one of these sesame cookies and a square of dark chocolate for dessert.
Snacks
Pink lady apple, another h.b. egg, almonds and sesame cookies – packed up for school!
I mean, who wouldn't have a good day if this is what you see when walking to class.  Yes, I took this with my phone – instagram! (no filter)
Recycled photo – but I'm in love with these bars. I think I like them better than Larabars! But they're not cheap, so this was a special treat.  Another foodie thing I will miss when I leave Europe.  (instagram photo!)
Dinner
(I was super starving by the time it was time to make dinner, so I snacked on some cherry tomatoes and hummus while cooking)
Healthy spanish fried 'rice' dish thingy.  Those are actually wheat berries, not rice! I got a block of "rosso" (spanish spiced) tofu on sale, so I stir fried it with some begins, wheat berries and 1 egg.  It turned out quite a bit better than I expected.
After dinner I had a scoop of PB and another little square of chocolate to satisfy my sweet tooth.  Then, a lovely cup of peppermint tea before bed.
 Do you ever have really good days, just because?
Best thing you've *made* and eaten recently?