I am the worst at replying to comments.  I apologize, I really don't have a decent excuse other than 'I'm lazy' or 'I forgot at the time'.  Trying to get better!  Also, I'm not even sure if my comment-reply plugin goes through – do you get my replies by email?
Anyway, after taking a bit off from food related posts, I'm jumping back in via What I Ate Wednesday to show some of my recent favorite eats.  Days here are on really weird schedules, so these meals are from various times over the past week, and in no particular order.
Want to join the party? Link up with Jenn, and check out all the other WIAW posts on her site!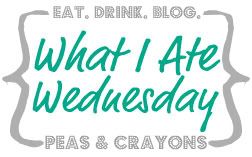 Lentil stew with spinach and tomatoes, with herb-y brown rice.
sautéed frozen veggie/potato mix (so good, so cheap!) with lentils.  Lentils = cheap healthy protein.
Snackage on campus – coconut sesame crackers and a soy latte.  These crackers are amazing, but they are rather sugary.  I'm in desperate need of a sugar cut-back at the moment, so I don't see any more of these in my near future.
The first roasted veg in way too long. Parsnips, carrots, zucchini, with some steam-fried spinach and herb-y omelette.
Whole grain active-seed toast with PB, banana, chia seeds, cinnamon.  I've seen this breakfast combo pop up on so many bloggers' sites and never really understood the hype – but it really is the best breakfast for run-days!  I had so much energy for my 4 mile 'long' run (oh how i dream…), and no upset stomach.
AB & J oats. Not my favorite, but a nice change – using no-sugar-added blueberry spread.
Snack – hummus and cucumber on Wasa crackers!  Sweden is home of the Wasa cracker, they sell every variety, in HUGE quantities.
Random fact: Hummus and cucumber was my favorite sandwich combo when my mom or I used to pack my lunches for summer camp back in the day.  I was never really a PB&J girl.  Still pretty much true.
And last – another epic salad beast.  This one had: spring mix, red pepper, cucumber, sugar snaps, tofu cubes (finally found cheaper tofu!) sliced avocado, and an amazing dressing.
Creamy healthy dressing:  1T hummus, 1-2T balsamic vinegar, 1t basil pesto.  It's vegan if you use vegan pesto! Another new favorite, for sure.
Okay, not last, I lied – today's Stockholm picture.  After class today I went with a few friends to an area of the city called Gamla Stan.  We walked around, grabbed a bit to eat, and when I was want back to the metro station it was snowing
What's your favorite healthy salad dressing?
Pick your sandwich preference – PB&J or hummus and cucumber?
[[also, if you comment, have you been getting my replies by email?]]