Well, it's been a while since I've done a What I Ate Wednesday post! Almost a month it seems.  Traveling aside, I haven't been really into photographing all of my meals for a whole day.  It's kind of annoying to do, even to myself.  But, I missed it, and it makes for a good blogging topic when I can't think of anything else to post.
So here it is – WIAW, as an exchange student in Sweden.  Don't forget to check out all the other bloggers' meals on Jenn's page!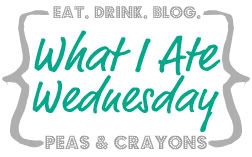 Breakfast
A good day almost always starts with coffee.  Home brewed with creamy soy milk, just the way I like it.  Coffee makes the world go round <–truth.
A nice big bowl of overnight oats!  Oats, chia, half milk/ half water, mashed banana, vanilla extract, with a dollop of almond butter.  Dough-y and delicious.
After doing some summer-job-applying & researching, I did an amazing leg interval workout!  First I perused body rock to find one that suited me, but when I didn't, I made up my own.  [see bottom of page for workout]
Lunch
I was crazy hungry (again) after that awesome workout.  I started lunch with an open-faced egg sandwich and another piece of seeded toast with hummus.
Still hungry, and in need of some more fiber, I had a microwaved sweet potato with cinnamon and yogurt.  That did the trick, for the moment.
Dinner #1
Eaten at about 4pm.  I went to a café on the main campus called Frescati Stories to get some work done and was in desperate need of a snack. I went with the cheapest wholesome option I could get – a smoked salmon wrap, and a dark hot chocolate.
The smoked salmon here is amazing, and the veggies in the wrap tasted really fresh.  Quite different from the campus cafés back home!  And the hot chocolate – I love the way they do it.  You buy a stick with a chunk of chocolate on the end, and stir it around in the hot milk until it dissolves.  So much better than powdered.  Unfortunately, I forgot to ask for soy milk, and had bit of a stomach ache from all the sugar + dairy.  Oh well, it was worth it.
Dinner #2
Real, homemade dinner.  Poached egg (kind of fell apart), roasted frozen veggies (cheaper than fresh), and a single serving of Angela's 15 minute creamy avocado pasta.  I almost never crave pasta – and I can't really say I was craving it last night, but I have had this recipe in the back of my mind for ages and wanted to make it.  It was worth it – and I must say that whole wheat spaghetti is rather filling!
Dessert / late night snack
I honestly couldn't believe I was still hungry after all I ate!  But I'm trying to go with my hunger cues, so I had a bedtime snack.  Sliced apple with almond butter.  I guess we'll see in a few weeks whether or not all this eating was too much or much-needed.
Bodyrock-style Cardio/Leg Workout:
I generally get bored doing leg weights, so I decided to change it up and do some intervals!  Only 16 minutes long (or you could do 12 if you want), I was huffing and puffing, and my legs were aching by the end.  And I'm still feeling it the day after.
Set interval timer for 16 rounds of 10sec/50sec:
10s rest
50s Low Jacks (jumping jacks, stay low, knees bent)
10s rest
50s Alternating single leg glute bridge
10s rest
50s Jumping lunges
10s rest
50s Alternating single leg squat
repeat x4. Do as many reps as possible, write them down during the rest interval.  Warm up, crank up some music, and the 16 minutes goes by in no time! Afterwards, I stretched my legs for about 15 minutes.  Still sore.
Best thing you ate today?
Do you do interval workouts for strength training? What are some of your favorites?