One thing I am definitely not short on this ski trip is good food.  Sun Valley and the town of Ketchum are not much more than some shops, and a ton of good restaurants.  Even on the mountain, the food is really good.  Pricey, but always good and fresh.
So for this week's What I Ate Wednesday, I'm going to share some of my best ski trip eats so far.  To see all the other fantastic WIAW posts, check out Jenn's site!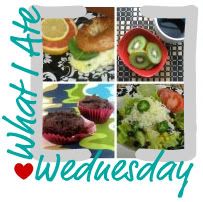 Breakfasts:
Almost every day of skiing, breakfast looks something like this.  Oatmeal (made by the father!! yay extra sleep) with banana, 1/2 serving of SunWarrior, almond butter, and cinnamon.  Carb-y power breakfast at its finest!
Lunches
The chili at the ski lodge is fantastic – both the veggie and the chicken basil.  I got the veggie, and side salad.
This is one of the better salad bars I've seen.  I got this beast for lunch today – yes, beast, that is a dinner sized plate.  I loved every green-filled bite.  Gorgeous colorful vegan lunch.
Snacks
Again, this is pretty much my ski-fuel every day. 2 medjool dates and 1/2 a protein bar for after.  We typically eat an early-ish lunch (11:30-12ish) and call it a day somewhere before 3pm.  This is the perfect amount to keep my energy up through the day!
On our day off yesterday, we wandered through the town a bit.  After hearing about a raw food restaurant in Ketchum, I was so excited to stop there! I went into Glow for a shot of coconut kefir (exactly what my stomach needed after all the traveling) and a raw sunflower-flax-raisin bread to munch on.  Made me really happy
Dinners
We don't have very many dinners at home here, but we do cook at least once or twice.  Mom made this lentil stew (vegan & gluten-free!), and it was a hit with the family.  It's a simple recipe that we made together last year (and loved) so we did it again and it did not disappoint.  Good organic spinach and local Idaho potatoes certainly helped. (the potatoes here really are that good)
Last night, we went to dinner at another favorite restaurant in town, Ciro.  It's an Italian restaurant, and I love that so many of their dishes are so 'clean' – simple, few ingredients, whole real food.  Maybe not these bread sticks though, but they certainly are delicious (read – addicting).
We got some grilled artichokes for the table.
I started with a house salad, shared with my dad (I had a big meal coming)
Then ordered the Mexican Blue prawns.  Served with a spicy chickpea purée, and sautéed spinach.  Clean, green, simple, delicious.  I think this is the best meal I've had on this trip so far.
After dinner, I made some tea out of the leftover fresh mint we had from the lentil stew.  Plus a medjool date for dessert.  Happy tummy.
I'll have some more adventure/scenery pics in the next post, but this one was all about the food.
Best thing you ate today?
Do you eat at restaurants more often when you travel?