One and a half weeks. That's all I have left in NYC for at least 6 months!  I think I'm still in denial that I'm actually leaving.  It's probably the reason why I haven't started packing or storing yet… But I did just get my storage materials delivered, so I can get a head start on that this weekend (hopefully).
You may have noticed that I've been rather absent this weekend – well, aside from all the work I had, my parents came to visit NYC!  So of course I was out spending some time with them, and not spending a ton of time on the Internets.  But, I still took some pictures of my eats – some of which were very different from the norm.  I went out with the 'rents for most of my meals this weekend, something I don't usually have the time and money for.  So it was a great treat!
I'm even joining the WIAW party early!  To check out some other great eats, go visit Jenn's site.  Just don't read if you're hungry 😉  Here are some of my meals from my weekend with the parents.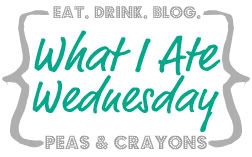 Dinner at Blue Water Grill – a seafood restaurant in Union Square.
My mom ordered this sashimi trio appetizer.  Mom ate the hamachi, Dad ate the salmon and I had the big-eye tuna.  They both said theirs were really tasty, and I like it as well – but I was not expecting the fattier flavor of big-eye (as opposed to ahi).  Still a winner!
My starter salad – arugula, red and golden beets, local goat cheese, toasted almonds and a light vinaigrette.  This is probably one of my all time favorite salad combinations, and everything tasted really fresh.
Dad's dinner – sesame crusted big-eye tuna.  I only had a bite, but it was quite tasty – again, I prefer ahi over big-eye.
Mom and I split the ginger-soy lacquered chilean sea bass, and it was amazing.  It was glazed with chinese broccoli, sticky rice, in a wasabi miso sauce.  I'm glad we split this plate, though.  The portion was not that big, but it ended up being the perfect size, as neither of us would have finished whole portions alone.
And of course, I couldn't pass up a fancy dessert.  Poached autumn Bartlett pear with fig jam and pear sorbet.  This was light, but satisfied my post-dinner sweet tooth.
Lunch at Chelsea Market
After walking the high line, we stopped for lunch at Chelsea Market.  After a bit of looking around, all three of us decided on Tuck Shop, a little Australian 'comfort food' booth.  I was in the mood for warm food.
Vegetable lentil pot pie, with a side of kale salad.  The perfect mix of comfort and nutrition.
Breakfast at Friend of a Farmer – in Gramercy.  This inside of this place actually feels like you are eating at a ski lodge.  It's a great little gem in the middle of new york city.
Mom's breakfast – pumpkin pancakes.  I had a bite, they were delicious.
Dad's Breakfast – eggs & pancakes.  I didn't try any, but he certainly enjoyed it.
My breakfast  – porridge!  Again, I had a warm-food-from-a-bowl craving.  It's been a while since I've had a simple breakfast bowl, and I really enjoyed it.
They also brought us a couple of pots of really good french press coffee.  Morning coffee = happy Rachel.
Over the weekend, we also ate at a fantastic south american restaurant in the Lower East Side calledYerba Buena. We were out with some friends of my parents, and I was a bit too preoccupied with the company to take any pictures.
Do you go to restaurants often?
When / what was your latest greatest dining experience?