So I mentioned yesterday that I haven't really had the energy to blog – but I'm still taking photos of my delicious meals!  So I'm using this week's What I Ate Wednesday to post some of my meal highlights from the past week(ish).
Seriously, if Jenn did not host this link party every week, you would be seeing a whole lot less from me!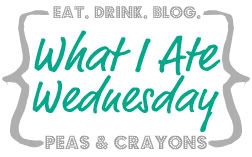 Let the photos do the talking:
Breakfasts:
Chocolate gingerbread oats!  1 serving plain oats cooked in half almond milk half water, 1 T molasses, ground ginger, cinnamon, nutmeg, omigodyum.
Bowl of everything.  Yogurt, pumpkin purée (it's under there!), cereal, sliced banana, topped with cinnamon, chia and a bit of sunbutter.  I have not had a breakfast this satisfying in a long time.
Fitnessista breakfast cookie! Shredded coconut added in, topped with maple spiced pumpkin.  Again, kept me full for hours!
It's grapefruit season!!
Lunches
Veganburger brand quinoa burger (frozen, but they turn out really good!) over lo-rganic tatsoi with hummus and whole grain mustard, a side of sprouted rye with coconut butter (now my artisan packets are all gone)
Return of the beast! A salad beast of epic proportions.  I have really big hands, and yes that is a large mixing bowl.  I almost never eat salads right after a workout, but I got back from the gym and could not get the idea of a salad out of my mind.  Spinach, peppers, tempeh cubes, and hemp seeds with salsa, hummus, mustard, and a sprinkle of balsamic and coconut oil.  I ate this guy way too quickly.
Dinners
Masala roasted kabocha, brussels sprouts and tofu.  A lovely warming meal.
Tonight's combo – I made sure not to skimp, to avoid the hunger monster.  Eating a little more substance at dinner definitely helps prevent over-snacking.  Two sm-med sweet potatoes, roasted brussels sprouts, and a side of savory peanut flour sauce.
Snacks & Sweet Treats
I made up a batch of pumpkin spice 'muffies' (muffin texture, cookie form)
– one box of spice cake mix + one can of pumpkin purée.  Sorry, vegans, I de-veganized by adding some white chips.  The chips make up for the lack of fats in the cookies, no regrets there
One of Trader Joe's many innovations.  I love that their definition of 'lite' just means less oil and sugar and salt – no fillers to make up for the taste!
Raw chocolate. I ordered a set of these (in different flavors) from an awesome VeganCuts deal.  No more explanation needed.
Now – homework, laundry, homework, sleep, class, repeat!
Best thing you ate today?!