[[reminder: Enter my giveaway! You have until Dec. 5th to enter to win 5 free Nasoya coupons and an awesome t-shirt!]]
Ever since thanksgiving, my hunger has been way out of whack!  I think going home throws me off, as most of my family eats three square meals per day, and I generally just eat constantly, when hunger strikes.  Which is usually at really odd times.  I also think a lot of my self-control went out the window with thanksgiving, and I'm trying to make up for it.
Basically, the balance/satisfaction really isn't there.  The fast few days I was probably not eating enough, that by this evening nothing would satisfy me.  I tried drinking water, but all I wanted was more food.  And the really frustrating part was that I could not for the life of me figure out what exactly it was that my body needed, other than more.
When it comes down what I really need to eat, I actually don't really know.  How many calories, how much from fats, proteins, carbs, etc.  I know I feel low energy without enough protein, so I made sure that was not the issue.  Also, my energy levels were the same as usual, and I otherwise feel fine.  I'm just hungry, but no particular food sounds good to me.  I tried to get my nutrients and all, but I still feel like I overdid it on the snacking front.
I thought I would use this What I Ate Wednesday to honestly share my delicious but off day of eats.  And of course, this would not be possible without Jenn, the lovely host!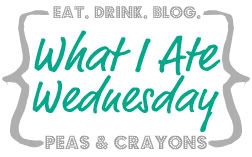 Breakfast
Nature's path optimum organic cereal, on top of a mix of pumpkin, 1/2 scoop sun warrior, spirulina and almond milk – with lots of cinnamon on top. I actually eat cereal at least 2 or 3 times a week, but it's usually my pressed-for-time breakfast, so it doesn't often get photographed.
I waited about a half hour after breakfast, but I was still hungry then, so I had an apple with way too much nut butter (at least 2+ tablespoons).  But that held me over for a while, so I didn't have my usual pre-workout banana.
Lunch
Egg wrap (1egg, 1 white) on a WW tortilla, stuffed with spinach (it's in there I promise!) with a little smear of goat creamy cheese, and TJ's hot and sweet pepper jelly <–new fave!
I had a couple of these throughout the day:
crystallized ginger from the bulk bins at whole foods – I love that you can still tell that it's made from real ginger!
Now begins my ridiculous hunger, which I also partially blame on the HIIT workout I did today.
On-the-go 'shake' – almond milk, frozen banana, 2T oats, more sun warrior, pumpkin pie spice, and 1t of blackstrap molasses for a bit of extra iron and sweetness.
Between this and dinner I probably had the equivalent of a whole meal.  Some hummus and raw veggies, a couple of handfuls of chocolate chips, a small handful of raw nuts, and a rice cake or two (two, I think…).  Dinner came about 45 minutes after that craziness.
Dinner
Steam-fried brussels sprouts and tempeh, served on a bed of spinach, topped with salsa, mustard, notch and a few walnuts.  It was delicious, but I still wasn't full – let alone satisfied.
Dessert
I made some vegan chocolate chip donuts, and probably ate about 4 of the minis.  So good! But I really need to learn how to stop myself.
I would love some insight, if you have any advice or can relate to this:
How do you handle insatiable hunger/binge days?
Have you had an issue with HIIT strength workouts triggering crazy hunger? How do you deal?