I only have four photos to share on this lovely WIAW.  This past week or so my eating has gone whacky.  I think it's partly due to the fact that I've upped the intensity of my strength training (heavier weights!), and partly due to my empty fridge.  The 'frugal' person in me decided it would be a great idea to put off grocery shopping as long as possible.
Which was dumb.  Because I have eaten the same things for days straight, and that generally doesn't work well for me.  I get to a point where I'm not satisfied no matter how filling my food is.  I end up snacking way too much, not eating any real wholesome meals, then feeling super guilty.  I was in desperate need of some new and exciting ingredients.
Last night I made myself promise that today's eats would be things that I had not eaten within the past week.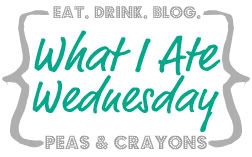 The eats photographed today all happened before I impulsively ran to TJs an hour and a half before they closed.
Gena's Chai Chia pudding, except I used hemp seeds instead of cashews.  The spices were so 'fresh' tasting, and the whole thing was delicious.
[[insert banana & coffee here]]
I splurged a little while ago, and bought some things from the Nutbox.  I think I had at least two servings from each of these today.  Not gonna lie, I definitely feel like I ate too much of this stuff.  But I'm putting it out there, which is way more than I would have done a few months ago.  Meanwhile, I certainly enjoyed it while eating!
I had a weird craving for a bagel today.  Not sure why, I haven't had bagels in months, but I just wanted one! So I hit up Bagel Bob's (so so good!) for a darn good New York bagel.  I chose pumpernickel, but wasn't really feeling cream cheese-y, so I went for the homemade hummus instead.  Loved/savored every bite.
An old favorite, brought back – fluffy eggs & kale, with salsa.
So, then I had this grand plan for dinner – seared tuna salad.  I bought frozen fish a little while ago and thought it was finally time to use it.  So, hours of waiting for defrosting went by.  I did a little snacking.  Then another hour.  I did some more snacking, and felt horrible about it. I got to the point where I really needed something substantial or else I'd be snacking for hours.  [[Insert impulse trip to TJs here]]
I bought a whole bunch of veggies and other staples. Plus a soup I could doctor up and eat for a quick dinner.
Then a miracle happened – but unfortunately I was too excited to photograph it.  While I was grocery shopping, I got an email from our RA saying there was a ton of free Indian Food in her room.  I get back home and my roommates walk in the door with a takeout bag full of Indian food.  Chana masala, and some other shrimp dish, 4 containers of rice and 2 huge pieces of naan.  I ate way too much, way to fast, but it was certainly tasty.  I'm trying my hardest not to let the food guilt demons get to me.
I really need to start meal-planning.
Do you ever go through times when you are full, but never satisfied no matter what you eat?
Best thing you ate today?