[[Please ignore the first paragraph if you're so inclined.  Begin rant:]]
So it's taken me over two months to realize that my weekly class schedule is way out of balance. I have 4 classes on monday, 5 on Tuesday, 2 on Wednesday and 2 thursday.  Why did I not think of that when I made my class schedule? No idea.  And while I don't hate being pretty much done for the week by Wednesday (I never have HW due Thursdays or Fridays), it throws me off.  I tune out the real world (and often the blog-world) from sunday evening through Wednesday, but by then I'm burnt out. So the free time I do have at the end of the week is almost never put to good use.  Can't say I like it much, but I have to find a way to be productive so I don't burn out week after week!
Okay, the rant is over now – onto the important stuff!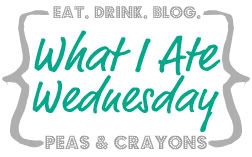 Really, if it wasn't for Jenn and the WIAW party every week, I would probably be MIA from the blog world at least a day longer, before regaining any semblance of my creativity.  Here are today's eats – the ones I managed to capture at least.
Pre-workout banana (and un-pictured coffee & water). Do not be fooled, it's actually NOT ripe.  So why is it turning brown?
Easily the most satisfying breakfast I've had in a while – and it's all raw! Buckwheat groats (soaked overnight), hemp seeds, chia seeds, and flesh of a perfectly sweet hachiya persimmon. [[not the one in the picture, his older brother is in the bowl]]
super quick mini meal – spaghetti squash, tempeh, tomato sauce and notch. would have been better warm
savory snackage – crunchy celery and plain old hummus.  perfect when I'm feeling munch-y but want something fresh
dinner part one: kabocha! it's been over a week since I had this, and I missed the stuff
 Now I know why Nicky is so in love with it!
finally, something green.  lettuce wraps with a simple tofu stir fry.  I would post a recipe, but I'm not even sure I really remember what I put in it.
after dinner treat: a 'faux-cha' (fake mocha).  I've seen it around the blog world, and I had my doubts, but this dark chocolate almond milk is so creamy and delicious!
What was the best thing you ate today?
I'm curious – if you could pick any one of my eats from the day, which would it be?