I feel unoriginal. The only posts I seem to have the energy to do are recaps and WIAWs. I promise I'm still eating delicious things and keeping up with my goals and workouts and such!
Maybe I burned out doing all the blog transfer things. Or schoolwork. I'm hoping my blog-creativity will come back soon, this page needs a bit more life. But in the mean time, we'll have to make do with WIAW. Hey, at least it's a real, food diary WIAW! Join the party, hosted by Jenn!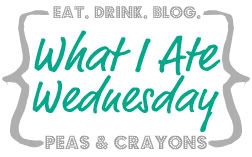 Breakfast
Pre-Workout:
then came a little surprise!
What could it be?!?!
I tasted them all (couldn't resist!), then ate a local fuji apple (no picture) with some Avalanche – very similar to white chocolate wonderful, but less sweet. I'm a fan. Seriously, I love OpenSky. They gave me a 10 dollar credit because my order was taking too long!
Post-workout…lunch?snack?
I was really in the mood to make dinner… but what to cook?
Dinner
This is a yam. NOT a sweet potato. These have a taste and texture somewhere between white potatoes and sweet potatoes.
I think I had at least one more apple, and some spoonfuls of PB. And probably some bites of chocolate or something.
Do you ever feel like you lose your blog/work creativity?
Best thing you've eaten recently?