Remember my little post about eating mini meals instead of traditionally large ones? Well this week's WIAW is a salute to snacking – I've been seriously loving it lately.  (eats from a few days, again it's hard to capture only one FULL day, but I really wanted to join the party!)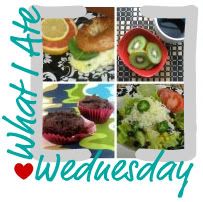 As always, thanks to Jenn for hosting this fabulous link party.
Breakfast(s)
to make banana jam: melt a banana in the microwave, let cool completely. simple as that, and so delicious!
Eaten at work, from a mason jar, with my bamboo spoon of course
Lunch
Dinner(s)
taco night! featuring leftover beer can chicken
Snacks & Sweet Treats
favorite kind of apple, ever.
I don't think I'll be sharing the recipe for this one.
in the mix: 1 cup soymilk, 1 cup frozen berries, 1/4 banana, 1 scoop sun warrior, 1 tsp lucuma powder (!!!)
Can you tell how much I love snacks a sweet munchies?
The usual wednesday Q: What was the best thing you ate today?